One of Hamburg's most promising and interesting bands in the field of Hardcore Punk and Doom-infused Metal, Kavrila, recently released the third and last part of their EP series named Rituals that was started back in 2016. I'm not exaggerating when I say that this release represents the current artistic peak of a band that has managed to grow and develope beyond their energetic and fierce yet melancholic and highly emotional songs. Compared to previous releases, a more visceral approach has been pushed forward on Rituals III, despite the omnipresent force and urgency, resulting in four dynamic and boundary pushing tracks that will captivate you right from the start. The melodic and quite punky opener "Sunday", which is loosened up by some decent clean guitar parts, is followed by the brute "Equality", which fully hits the listener with its heavy riffing, the massive drums and its catchy chorus. "Longing", on the other hand, drifts into a somewhat more depressing direction and focuses on building a rather gloomy atmosphere . The final "Elysium" takes more time to unfold and shows the band from a more experimental and calmer side. It perfectly showcases Kavrila's willingness and ability to enter uncharted waters and embark to new paths, no matter in which musical direction they might lead. That said, I am pretty curious and excited about what the future has in store for the Hanseatic quartet – and of course for us listeners!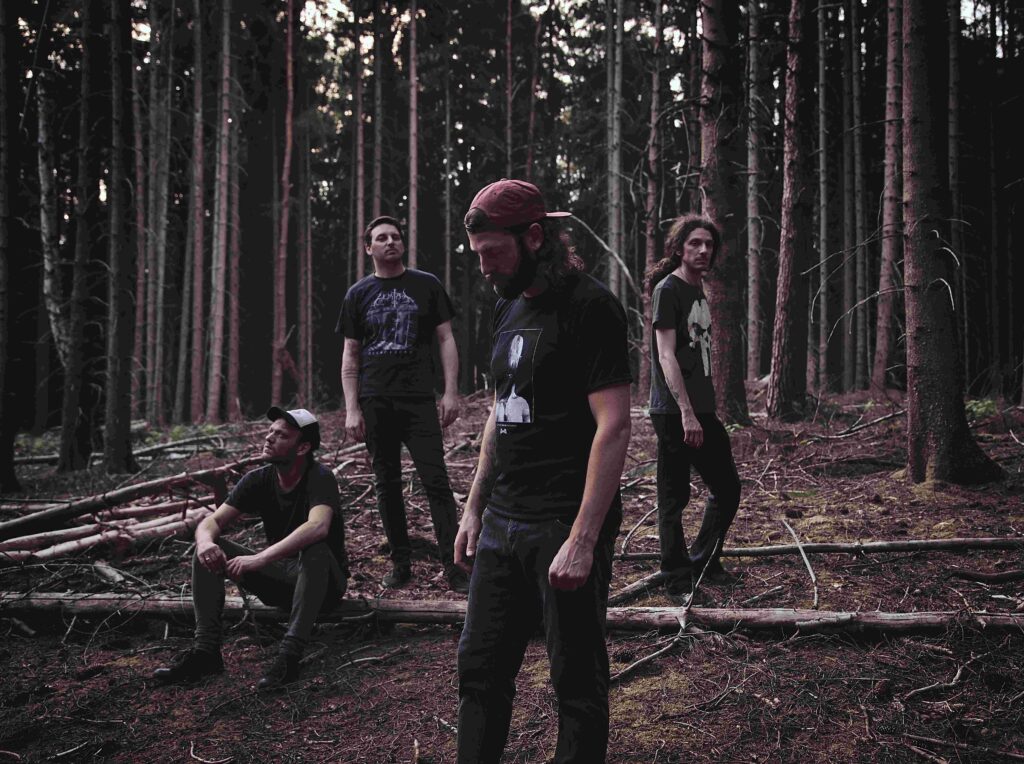 In the course of this release I am very happy to had the chance to talk to singer Alex about topics like the musical development of the band's sound, the often very personal lyrics, the visual design of the artwork and more.
---
Interview with Alex from Kavrila
---
TMB: Hey Alex, first of all congratulations on the current release and thank you for taking the time on behalf of the band to introduce yourselves to our readers and to answer a few questions about your current release! How are you guys doing?
A: Sure thing, thanks! We appreciate your interest in us and our music.
TMB: One of the main ideas of TMB is to discover new bands and releases through constant exchange among all team members. This approach to discovering music has proven to be very effective and valuable and that's how I became aware of you and your current release "Rituals III". At this point many thanks to Nino! Would you be so kind as to introduce yourself and your band and tell our readers what they can expect from Kavrila?
A: Well, we've been making music together since 2016. Pretty much after the first release in March, 2016 people gave us the tag "Doom-Punk" which we kinda liked and took it from there to describe our music style to people who ask for a genre. For us it's just intense, cathartic and high-energetic music we like to play first and foremost for ourselves. Of course influences like Hardcore, Sludge and Metal are obvious but not planned to be from us in the first place – it came naturally. Everyone brings a different style, experiences and influences to the table. Your readers can expect an honest, uncomfortable way of expressing music through our bodies and minds which try to cope with stuff the world can give you from time to time. It's a valve for us and a necessary release. When people can feel that too, perfect – let's share the pain and feel better afterwards.
TMB: Your new EP is the last part of the Rituals trilogy that started five years ago and is now coming to its conclusion. What is the interconnection that binds all three parts together and what is the significance of the recent release within the trilogy?
A: Back then we had this idea of three EPs with a similar style but giving it a chance of growth at the same time. We didn't make a detailed time plan or anything. There will be three parts and we will call it "Rituals", that's it. Let's start with the first one and see where we end. It became a thing of itself pretty much. Somebody wrote some riffs or parts and it was like, this is stuff for the "Rituals"-EPs and this riff would fit better for the album. I don´t know, the stuff we wrote for this has a certain vibe, some kind of more spontaneous approach maybe. Now looking at all parts, even for us it's interesting to see the whole journey. Even the last part maybe the most approachable of all, it's definitely "Rituals"-material – raw, unexpected and personal.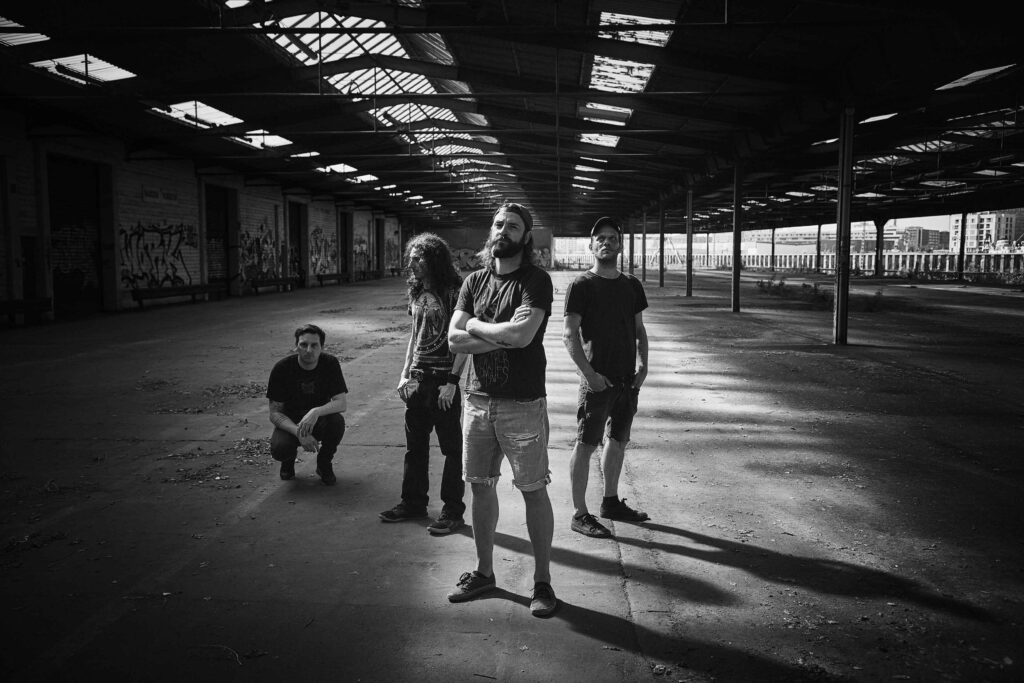 TMB: You fuse various elements of Hardcore, Sludge and Doom Metal in your music and manage to give each of your releases its own specific touch and atmosphere. Was this planned from the beginning in the context of the "Rituals" EPs or was it rather a natural process in the musical development of your sound?
A: Like I said in the beginning, we had no plan of writing in particular styles of music and even until now. It came and still comes very natural. We just knew it has to be intense and honest. Of course we knew it would not be very Pop or Rock. We wanted to create more like chaotic and unpredictable shit, trying not to be driven by styles that worked pretty good for journalists or this and that audience. Just for us.
TMB: The lyrical component in your music is very emotional and expressive. What contents and messages do you want to convey? Is there a lyrical concept behind "Rituals"?
A: It's pretty simple for me. I can't make up shit lyrically. I can't write about dragons or some fictional stuff. It has to be personal for me, as honest as it can get. So I have to dig deep in myself and come up with stories or experiences that happened to me and try to put them in words and interpretations. It's very interesting as it turns out I have different experiences myself with the lyrics while I write them, perform them for the record or sing them live. There were moments on stage where I fully felt the lyrics as I never had felt them before. Like there is a sort of unconscious thing going on while writing. Then sing them the first time for the recording and then live them out to the fullest in the live situation. Regarding messages, I have no plan to deliver a message or whatsoever. I'm not preaching, I'm just telling. If those words mean something to someone out there, that's great but beyond any of my expectations. I just try to write stuff that I can relate to and things that the music the guys play kind of awakened inside of me. 
TMB: The monochrome artwork of the recent EP is very oppressive and leaves room for interpretation. What do you want to express with it and how is it to be seen in the context of the artworks of the previous EPs, which are kept in the same style? Did you collaborate with an artist for this or did you do it on your own?
A: All artworks for the "Rituals" cycle and our album Blight are from a Russian artist named Philipp Igumnov. I came across his works more or less by accident and was blown away from it at first sight. His works have a certain vibe and mood that we'd found in our music as well. So we just asked him if we could use them and he was fine and very supportive. For us artworks and music should go hand in hand as much as possible. In this case, we think it's a perfect match on all releases so far.
TMB: The visuals to the video to the song "Sunday" show parallels to the artwork of the record and are quite haunting and even disturbing. What's the story behind that?
A: This song is about a certain day back in 2018, where I had a full on anxiety attack while performing on stage and the night/events after that. In the video we tried to visualize my feelings through these hours. That thing got me hard back then and that night was one of my worst ever. So I tried to get back to it and described my thoughts and experiences to Miltos, our drummer. He did the video. We all filmed it, but he edited and finished it. On top of that a big influence was the movie Begotten. The visual style and vibe fitted pretty well to my descriptions. So we took that as a guideline if you will.
TMB: Like us, I'm sure you can't wait to finally present your music live again and attend concerts as well. Which three DIY locations have grown to your heart and what makes them so valuable to you and your band?
A: Only three? That's hard. So many good DIY locations out there! Ok, if I had to pick only three that would be the Gerber in Weimar, the AZ in Wuppertal and the Bar 227 in Hamburg. Besides the Gerber we played the other ones several times and any time was a total blast. The AZ in Wuppertal was part of our very first weekend shows we played in the beginning. The whole team was awesome around it. The crowd at our first show was insane, as we were completely unknown at this point. Very special night for us. As you know Nino from Lower Class Kids as well, I'm sure you know the Gerber. This place is just magic. We'd love to play there again as soon as possible. That stone room behind the bar is nuts. Not very big, but just right for a sweaty and loud show. Also amazing hospitality. The Bar 227 is kind of our personal living room and obviously home turf. We know the people behind it pretty well and like to come there as guests and as a band. We had some crazy shows there and partially shot our video for "Demolish" there as well. I had to name them of course.
TMB: Alex, thank you so much for taking the time to answer our questions and introduce your band to our readers. We hope to hear and see a lot more from you and Kavrila in the future! I would like to leave the last words to you…
A: Thanks for having us Steven! You will hear from us, no doubt. Keep your eyes peeled! Everyone stay healthy out there and hang on! There will be a time when we can leave all of our shit at the wardrobe, get a beer and throw ourselves in live music again. We will be there!
Kavrila's new EP and other records are available digitally, on vinyl and CD, so go check out their Bandcamp page and don't forget to pick up some merch as well!