Band: VoidCeremony
Album: Entropic Reflections Continuum: Dimensional Unravel
Genre: Progressive Death Metal
Country: USA
Release Date: 26th of June, 2020
Released via: 20 Buck Spin
Cover Artwork: © 20 Buck Spin
20 BUCK SPIN is an American Death Metal label where I listen to every release by now. The roster is overflooded with quality and accommodates a lot of bands who can make the leap from the underground to the bigger stage. Beside a lot of impressive Old School Death Metal you can also find some combos that are musically a little bit different from this genre and appeal to me personally the most. The latest discovery on my part wasEntropic Reflections Continuum: Dimensional Unravel, the debut album of the American Metal band VoidCeremony, who serve you a delicious piece of experimental Progressive Death Metal that not only tastes good but also fills you up.
The Californian band has been active since 2013, but after the release of three strong EP's, the longplayer, which is highly anticipated by fans, is now being delivered. In my eyes a mature decision, because waiting for an album was definitely worth it. Entropic Reflections Continuum Dimensional Unravel impresses with its rigorous songwriting, mercilessly good production and shows that the sound can really ignite, especially at album length.
It doesn't take more than 30 seconds to know that you have to be prepared for a brutal and complex album, because the powerful sound of the Entropic Reflections Continuum Dimensional Unravel shows clearly on which level VoidCeremony is moving and also reveals a lot of musical highlights. The guitar playing for example fires up powerful riffs, where especially the dissonant elements can stand out with a certain independence. Apart from the otherwise prevailing deep guitar parts, the listener is also presented with many out of sphere sounding melodies, of which some are quite striking, but some also get lost in complex songwriting and unfortunately can't reach their full potential. However, it has to be pointed out that all of the tracks have very versatile structures and even after listening to them several times they aren't really accessible. Luckily it's not that important for the overall quality of the record, because on Entropic Reflections Continuum Dimensional Unravel other elements take a much more concise role.
One element that has far more influence on the individuality of the album sound is the bass playing. For this purpose, Cauldron Black Ram frontman Damon Good, a session musician, has been brought on board, whose fretless bass playing adds that certain something to Entropic Reflections Continuum Dimensional Unravel and takes VoidCeremony to a new level of its own progressiveness. Rarely before have I heard this instrument in Death Metal, except maybe on Death on Individual Thought Patterns, where this way of playing was only a little bit reduced in comparison to the present record. Although the bass is given a lot of space, it doesn't seem overpresent at any place, subordinates itself again and again and at the same time puts its own stamp on the sound. For me personally the most outstanding feature of this longplayer, which really drives me completely crazy every time.
The drumming inspires with a lot of swirls and blastbeats, but sounds, beside the mostly quite aggressive parts, even slightly groovy in the stomping parts, despite the interlaced song structures. The presented intensity never seems overexcited or out of place, but rather symbiotic and fits perfectly to the other instrumentals. The highlight is probably the tinny snare, which stands out from the drumming and drives the band forward. In some places, however, the drums seem rather weak in comparison to the otherwise dissonant and oppressive sound and could in any case, at least with the bass drum, take a bit more force in the future.
The bitterly angry growl then rounds off the record completely and comes across excellently in the great sound production, just like the instruments. Here the soul is roared out of the body and the vocals always adapt to the respective tempo and tempo changes, which is not an easy task with the sophisticated structures.
Despite the numerous dissonant parts, a pleasant atmosphere unfolds, especially because of the progressive elements, which can lead into cosmic paths in relation to the sensational cover artwork and keeps the whole quality of this album in mind. For me, the question already arises how or with what VoidCeremony want to add a scoop on top in future records, because Entropic Reflections Continuum Dimensional Unravel is without question one of the musically most versatile death metal releases of the year.
Since July 26th the album is available via 20 Buck Spin in all physical formats, but as you can see, it is almost completely sold out. So if you want to get another copy, don't hesitate and don't wait long. VoidCeremony should be especially interesting for fans of Nocturnus, the already mentioned Death or Malevolent Creation to whom you can recommend Entropic Reflections Continuum Dimensional Unravel as a blind purchase.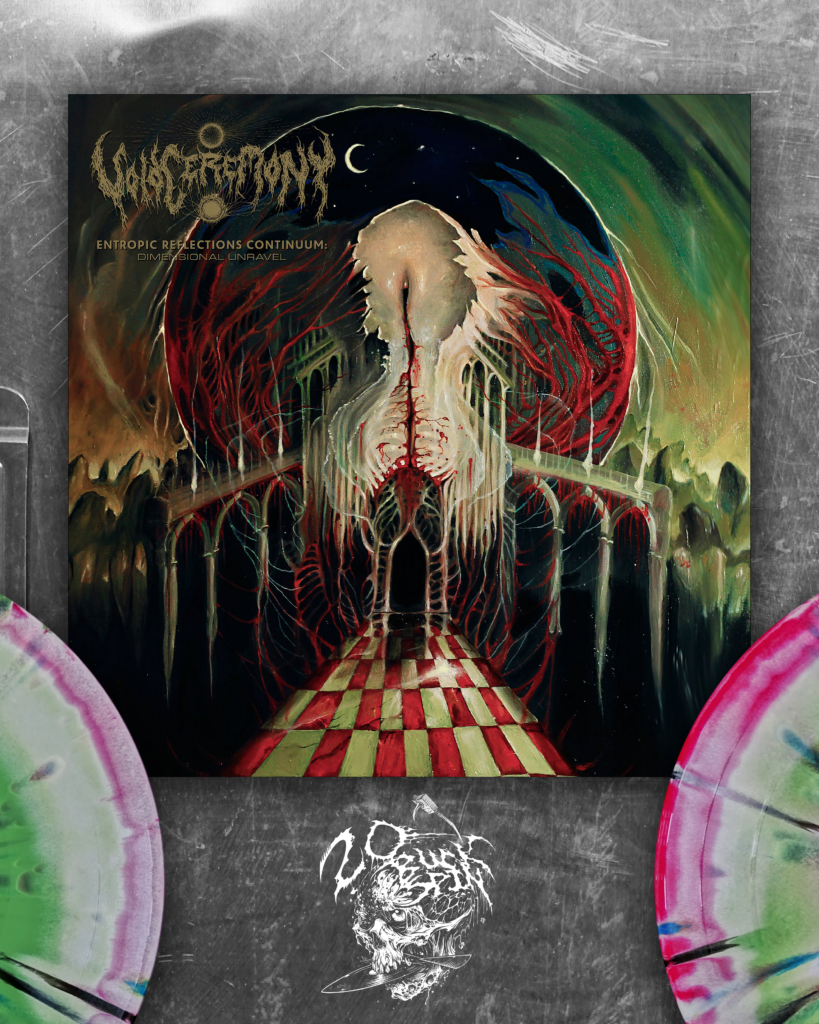 With Entropic Reflections Continuum Dimensional Unravel 20 BUCK SPIN once again unleashes an absolute killer release on the death metal community. VoidCeremony cause a furore with their mixture of nightmarish melodies, progressive elements and neck-breaking death metal passages and, thanks to ingenious fretless bass interludes in a virtuoso performance, they lay everything to the ground.
For lovers of the genre with adjacent security an AOTY candidate!
★★★★★★★★★☆
9 / 10

Favourite Tracks:
"Empty, Grand Majesty (Cyclical Descent Of Causality) "
"Solemn Reflections Of The Void"

[bandcamp width=99% height=120 album=2158361720 size=large bgcol=333333 linkcol=e99708 tracklist=false artwork=small]